Welcome
Dear Ladies and Gentlemen, Dear Colleagues!
In the last couple of years, IIA Hungary Board was committed to organize international conferences every second year. We had successful events in 2012, 2014 and in 2016.
As we are already in year 2018, it is time to show our commitment towards the Internal Audit profession by presenting our international conference which will be held in Budapest, on 12-13th April. The language of the conference will be English.
Our event this year will be a special one, as the 2017-2018 Global Chairman of IIA Board Mr. J. Michael Peppers will be with us and will provide his keynote speech.
The other keynote speaker Ramsés Gallego is a "frequent traveler" to IIA Hungary events, as he was providing successful presentations on all our international events the last few years.
This year we will be organizing our conference with ISACA Hungary indicating the need for close co-operation between Internal Auditors and IT Auditors.
The main message of our event will be "Internal Audit 2020 – and beyond" indicating that our profession should look at the future and when the whole World is changing with the speed of light, we need to be prepared to progress with these changes.
Our senior business executives from leading firms like Vodafone and Morgan Stanley will show us the challenges the business managers expecting for the future and will outline their expectations towards the Internal Audit professionals.
Next to the plenary presentations, we will be providing section presentations related to audit hot topics where you will be able to ask questions to the lecturers and follow the roundtable discussions after the slides.
I am confident that by attending our event, you will be gaining insight into the hot topics of the profession.
Hope that the Board of IIA Hungary will be able to welcome many of you in Budapest!


Yours sincerely,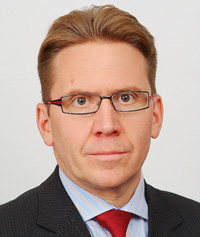 Robert Kollar
President of IIA Hungary